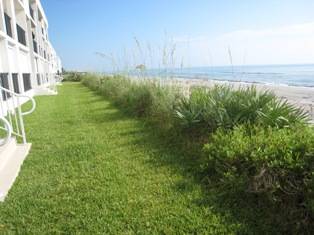 The Breakers Condominium Association is an oceanfront community enjoying almost 2,000 feet of wide, sandy beaches on the Atlantic Ocean in the quaint seaside town of Melbourne Beach, Florida. 
Ours is truly a unique environment.  We can look out on magnificent views of the Atlantic Ocean or the scenic Indian River.  Contrasted with the serenity of the ocean and boats on the horizon, from time to time, we enjoy a "front row seat" for the excitement of shuttle and rocket launches from the Space Center.  From May to December, a midnight stroll is sure to bring you upon one of the majestic sea turtles that nest along our shoreline.  
This web site is established to facilitate communication with our membership.  We hope you will find the site and its information convenient.  It includes easy access to Association By-Laws, Rules and Regulations, news, Board minutes, meeting dates and other informative notices for your use.  This site is accessible with a designated password and is intended for the sole use of the Association owners.
We sincerely hope this web site makes The Breakers an even better place to live.